We Create the best value for your own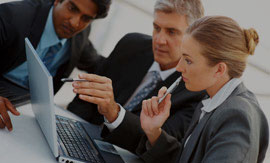 Cyberlinks is a emerging Gurgaon based software company focused on delivering the best and most cost-effective solutions to our clients in areas such as e-finance, e-business, healthcare, media, entertainment, communication and real estate.
We provide offshore software development and maintenance services ("offsourcing") for companies ranging from the Global 2000 to promising startups combining proven expertise in technology, and domain expertise. Cyberlinks delivers a range of outsourcing services that includes end to end mobile product development for iPhone, Blackberry, Android, J2ME, Windows mobiles, Custom Application / Software Development Outsourcing, Offshore website development, Web Application Development, and Open Source Consultancy.
Cyberlinks has very strong expertise in Mobile Application Development and Open Source Consultancy.We transform latest technology and business trends into a constant value for our customers. Our years of experience mean that we really understand the challenges faced by companies in the 21st century. That is why we can offer you solutions tailored to the detailed demands of your business.
Our products and services allow your customers to benefit beyond their expectations, and their continued loyalty is your reward. Quality and success is our belief and strength. We are committed to strong values. Putting clients and customers first, acting with integrity of all times, a commitment to quality and teamwork are the founding principles of our company.
Our Values
Towards Customers :
Individual approach to each customer
Setting clear-cut goals
Creative way to address challenging tasks
Mutual agile development via true cooperation
Understand clients need
Carry out all activities necessary to obtain the final product
Seamless Global Delivery Model with Offshore & Onshore presence
Therefore it is possible for our company to become your sole partner. We work with a team of very experienced and self-motivated people. Motivation and Momentum are derived from a feeling of ownership for customers and projects.
Towards Employees :
Closely-knit team
All ideas are considered
Possibilities of professional growth and development
Adequate wages