About Us
Company Profile
We simplify technology into solutions that transform our clients' business.

Cyberlinks is a global company specializing in End to End Mobility and Web solutions, Content Platforms, Big Data and Cloud services. We partner closely with pioneering start-ups, enterprises and leading technology brands.

Cyberlinks has carved a very strong niche in the Mobile Application Development, Media Content Platforms and Open Source Consultancy arena. Over the years, we have created a track record of
Buillding m/eCommerce solutions across 10 mobile platforms
Over 400 popular apps which can be found on millions of Smartphones across the world.
Enterprise Web applications across all leading Web Development frameworks (LAMP, Java, .Net)
Know-how and successful delivery of highly scalable, customized, media content platforms
Cyberlinks has a clear focus on leading edge technologies, strong techno-functional knowledge, and working with flexible engagement models to address the unique needs of our clients. We believe in really putting in the effort to understand the unique challenges you face to adapt to fast evolving business and technology trends. This is what enables us to leverage and transform technology into solutions tailored to the detailed demands of your organization.
This is why we are able to simplify your technology & operational challenges and generate long-lasting value to your business.
Cyberlinks today works with global clients across sunrise industries such as Telecom, Media & Entertainment, Retail, Travel m/eCommerce, Education and Real Estate
With our global offices and reach across 3 continents, we have delivered solutions and services to clients in 25 countries
Some of our valued customers include- Onmobile , Livestation, Paycard USA, Cape Coral Florida, Digivive, Palmer Applications Inc, Tata, Airtel, NDTV, Justin TV (now Twitch Interactive Inc), Southall Travel, NewsNation, among others
Established in 2009, Cyberlinks is a privately held, 100% promoter funded company, with a history of strong revenue and profit growth. Within a short span of time we have grown to create the stability and resource base to mobilize and deliver large scale and complex projects
Our Values
We are committed to strong values in all our relationships. Putting clients and customers first, acting with integrity of all times, a commitment to quality and teamwork are the founding principles of our company. 
Our products and services allow your customers to benefit beyond their expectations, and their continued loyalty is your reward. Quality delivery and successful results is our belief and strength.
TOWARDS CUSTOMERS :
We believe in an individual approach with each customer, to address their unique needs
We work on setting clear-cut goals with clear expectations and outcomes at the beginning of the engagement
Understanding the client's need comprehensively – is the cornerstone of all our engagements
We believe in working in creative ways to address challenging tasks, while sticking to commitments
We make the effort to carry out all activities necessary, going beyond commitment deliverables if needed, to build and deliver the final product
We follow a mutual agile development approach based on true cooperation to meet each client's unique situation
We work on flexible engagement models with Offshore & Onshore presence, to provide Seamless Global Delivery Model
TOWARDS EMPLOYEES :
Cyberlinks is a closely-knit team that values a creative, productive work ethic and supportive environment
We welcome team members to share ideas, evaluate & add them to our knowledge repository and put them to practical use
Team members realize the clear possibilities of professional growth and development – stemming from the hi-end technology projects they get to work on
We believe in paying our people well, by industry standards, and have above-industry retention rates over the years
Work With Us
At Cyberlinks, we believe that our people are our most important assets. With the right mix of skills and expertise, our employees are the most important reason for our success.
We do believe in progressive career and personal growth of our employees. With a variety of projects under development, we follow a process to do analyze each candidate's skills and aptitude, and assign a project according to his/her expertise and expectations. Most of our people are deployed on onsite projects, to provide them exposure to client servicing and engagement functions.
Cyberlinks provides a stable and growing career for people who possess the right combination of technology & domain skills, positive attitude, good communication skills and are team players. We aim to build an engaging, productive and nurturing work environment through our corporate culture, career opportunities and HR initiatives. Whether you are a graduate or an experienced professional, our global presence and pioneering work in technologies such as Mobility, Analytics, and Cloud will give you a rewarding career and help you develop your unique talents.
Our Core Values and Beliefs
Respect For The People
Recognition For Expertise
Reward For The Contribution
Continuous Learning & Renewal
Enjoyable Work Environment
Open Work Culture
Supportive Relationships
Professional Integrity
Empowerment
Challenging Work Assignments
Opportunities for Development & Growth
Sharing Growth & Prosperity
Current Openings
Sales
Graduate with fluent verbal & written communication skills in English
3-8 Yrs of Sales / BD experience in IT Services(Mobile Apps)  
Hunter with high energy & confidence levels to interact with C level executives (CEO, CTO, VP Engg.) over phone, E-mails & F2F basis for closing IT sales deals.
Descent understanding of global IT outsourcing markets and able to do R&D on Web for opportunity identification, competitor watch.
Should have carried a minimum annual Sales target of  $500K and able to do Quarterly Sales forecasting to meet and exceed Salesnumbers.
Able to work closely with engineering & Pre Sales teams for making Techno commercial proposals for prospective customers.
Academic Technical background is a plus though NOT mandatory.
Good to have prior work experience of working in Sales / BD roles for respective Geos (US) and  (UK, EU, MENA Region) (Desired)
Desired client front ending, presentation & negotiations skills with C level executives in the industry
Should have a established network with Key Decision makers in the industry to initiate, leverage & close the IT Sales Deals in their respective geographies.
Base Location for both BDMs would be Gurgaon
Windows App Developer
Exp-2+ yrs in windows Phone
N.P- 15 days
Salary - 3-5 lacs PA
Languages : C#, C/C++
Databases : sqllite, sql CE
Operating System: Windows phones 7,7.5 and Windows Phone 8
Tools : WCF, Visual Studio
Experience on analysing, designing and implementing solutions for the Windows Phone Windows 8 / Windows 7.
Experience in UI Design using XAML.
Expertise with Knowledge of Applications target field workers using Windows 8 /7 smart phones.
Experience with any language in mobile development for Windows 8/Windows 7 and Visual Studio 2012 IDE for Phone.
Knowledge of Expression blend is an added advantage.
Knowledge of porting apps to Windows store.
Knowledge of Windows 8/7 Application development (including Metro style apps) will be an advantage.
Experience in designing smooth navigation system, tiles, notifications, multitasking, streaming, Push notification etc.
Experience in the Media, VMAS, Retail, Live TV and Education Domain.
Tech Lead - PHP
Exp. - 6-10 yrs
CTC- 7-8 lacs
No. of position - 3
Job Location ? Delhi/NCR,
(Candidate should ready to join within 10-15 days)
Expertise in MVC design patterns, OOPs concepts.
Proven experience in frameworks using Code igniter, Zend Framework.
Expertise in coding, debugging and unit testing systems per requirements and technical design
Ability to write and consume SOAP & RESTful web services.
Proficiency with front-end scripting including: HTML, DHTML, JavaScript, CSS, AJAX, JSON and front-end development including jQuery, Closure Tools, MooTools, etc.
Experience with integrating Facebook, Twitter and Linked-In API?s in web application as well other open source APIs.
Proficiency with the LAMP environment (Linux, Apache, MySQL, PHP) with hands on knowledge of the Linux shell and Apache configuration.
Experience with internet security and ethical hacking concepts. Should be able to secure a web application against vulnerability & penetration attacks.
Strong SQL development skills (should be proficient with queries using JOIN, UNION, aggregation and conditional functions) and design skills (data normalization, foreign key constraints)
Experience in Mongodb and Python
Sr. Android Developer
Exp. ? 3-4 yrs
CTC ? 4-6 lacs
No. of position - 2
Job Location ? Delhi/NCR
(Candidate should ready to join within 10-15 days)
Expert-level knowledge of Android with at least 3-years of experience developing Android-based applications.
Deep understanding of the internals of the Android frameworks.
Strong object-oriented design
Detailed knowledge of Android APIs, including animation and building custom views
Experience in designing user interfaces that work across multiple Android form factors (phone, tablet,TV etc)
Experience with Android NDK development
Multimedia/Video streaming experience is required
Security/DRM experience a plus
Experience working with remote data via REST and JSON
Experience with third-party libraries and APIs
Able to work independently and drive results
Sr. iOS Developer
Exp. ? 3-5 yrs
Salary ? 4-7 lacs
Job Location ? Delhi/NCR
(Candidate should ready to join within 10-15 days)
Expert-level knowledge of iOS SDK with at least 3-years of experience developing iOS-based applications.
Deep understanding of the internals of the device frameworks.
Strong object-oriented design
Skilled with UIKit and using Interface Builder for UI, Core Data to manage in-app data
Experience in designing user interfaces that work across multiple iPhone form factors (iPhone4,iPhone5, iPad etc)
Well-versed with networking libraries and must have experience in developing networked applications, Web Services / REST APIs and JSON
Well- aware of all the new features included in Xcode 5 & iOS 7
Multimedia/Video streaming experience is required
Security/DRM experience a plus
Knowledge of core graphics and other important frameworks will be an added benefit.
Experience with third-party libraries and APIs
Able to work independently and drive results
Technical Lead
Experience. - 6 years
Candidate should have a wide variety and depth of experience in the PHP/MySQL platform along with leading and mentoring a team of developers
Authoritative experience in programming on PHP/MySQL platform in the linux environment
Ability to think at a system level and create easily maintainable and scalable architecture
Experienced with having led a team of junior and senior developers  and training and mentoring them
Well versed in front end technologies like HTML, CSS and Javascript including Javascript librarie
s like jQuery
Excellent experience in working with at least one PHP framework like CodeIgniter, Symfony etc
Well aware of various web application security issues and able to deal with and proactively prevent any security related implications
Well versed with using version control tools like Subversion, Git etc
Excellent linux system administration skills using the linux shell
Must have worked on REST based webservices and exposed to best practices like OAuth etc
Experienced in working with technologies like Solr, Redis, Couchbase etc.
Experienced in working on the AWS cloud infrastructure and exposure to the various tools available on it
Well experienced with agile methodologies like Scrum etc
Technical Lead (Java)
Experience. - 8 years
Candidate should have a wide variety and depth of experience in the J2EE platform along with leading and mentoring a team of developers
Authoritative experience in programming and architecting applications on J2EE platform
Well versed with application deployment on Linux environment
Ability to think at a system level and create easily maintainable and scalable architecture
Experienced with having led a team of junior and senior developers  and training and mentoring them
Experience in working on PHP and at least one PHP framework like CodeIgniter, Symfony will be a plus
Well aware of various web application security issues and able to deal with and proactively prevent any security related implications
Well versed with using version control tools like Subversion, Git etc
Excellent linux system administration skills using the linux shell
Must have worked on REST based webservices and exposed to best practices like OAuth etc
Experienced in working with technologies like Solr, Redis, Couchbase etc.
Experienced in working on the AWS cloud infrastructure and exposure to the various tools available on it
Well experienced with agile methodologies like Scrum etc
Why Cyberlinks
A Unique Selling Proposition of Cyberlinks, is our main focus on niche mobility which make us stand apart from other web development companies that also provide services to mobile clients but without the in-depth expertise across multiple domains and platforms.
We provide End-to-End mobility solutions, along with Big data and Cloud services. We are working across leading industry domains and are always looking out to partner with upcoming startups and leading enterprises.
End to end mobile product and web development services provider
Team Size: 200+ people strong engineering team just in "Core Mobility"
Geo Presence: HQ in Gurgaon with Sales offices in Bay Area US, Dubai (UAE) & Mumbai
Target Market: mCommerce, ISVs, mVAS, Travel, Retail, Mobile TV, IPTV, Fashion & Mobile Gaming Apps, Healthcare, Education
Development methodology: Mix of Agile & Waterfall development best practices
Engagement Model: T&M (Onsite & offsite), Captive BOT, Mobility staffing & Mobility ODC/GDC
Coverage across multiple Platforms & Geographies: Clientele in 25 countries – with work delivered on over 10 Mobile Platforms (iOS , Android, Blackberry, Symbian, Win Mobile, HP webOS, Nokia QT, Meego, HTML5, Unity3D & more)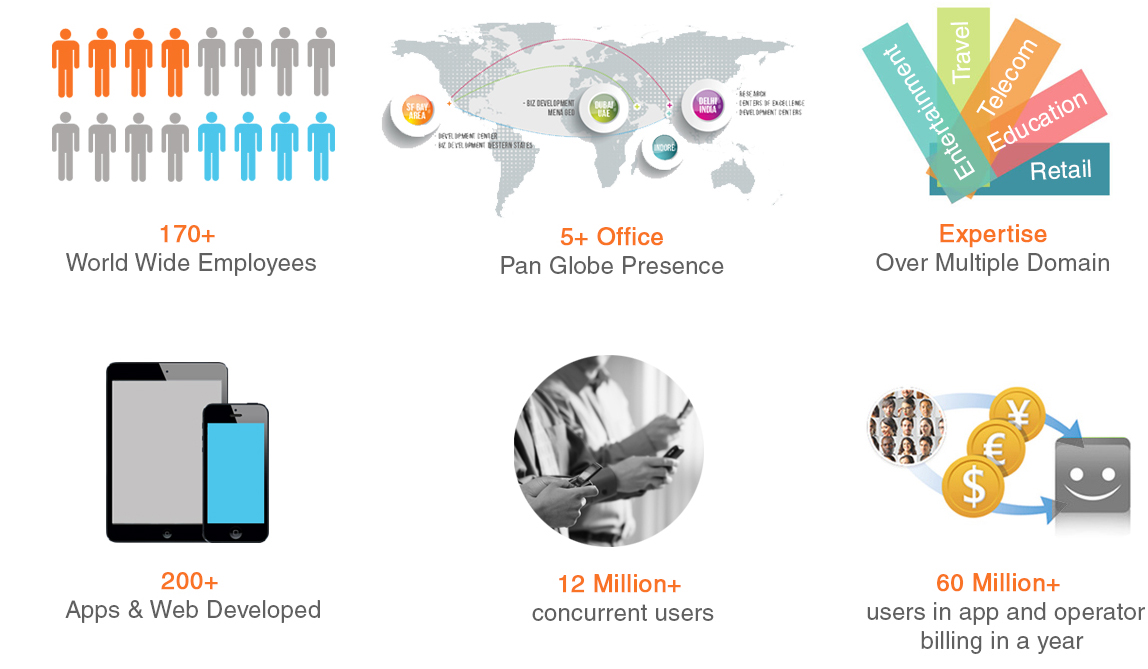 Domain Services
Donec semper vestibulum dapibus. Integer et sollicitudin metus. Vivamus at nisi turpis. Phasellus vel tellus id felis cursus hendrerit. Suspendisse et arcu felis, ac gravida turpis. Suspendisse potenti. Ut porta rhoncus ligula, sed fringilla felis feugiat eget. In non purus quis elit iaculis tincidunt. Donec at ultrices est.